Blast into December with our monthly guide that's bursting its baubles with F.U.N. From gin masterclasses and festive fairs to ice rinks, pantos and light trails. Ho, ho, go! ...
Want 35 thrilling things to do this month? Follow me this way festive fun seeker ….
Try a masterclass
Gin Infusion Masterclass, Memsahib Gin & Tea Bar, Cheltenham, 05 & 19 December
Have yourself a merry evening of gin-tastic entertainment (you don't have to ask us twice) at this special event at Memsahib Gin & Tea Bar. Get to infuse your own gins with a selection of botanicals, flowers and tea and try some new flavours you've never had before from the experts. Tickets cost £50.
Do a light trail
Spectacle of Light, Sudeley Castle, Cheltenham, 26 Nov – 30 Dec
Explore this magical after-dark experience, now in its 6th year it's always a treat. Follow the illuminated trail around the beautiful castle grounds, all set to music, plus new and exciting for 2021 see the Light Curve and flickering Flames of the Queen's Garden. Then go warm up with spiced mulled wine, hot chocolate, food and doughnuts from the Castle Terrace.
Winter Glow, Malvern, Three Counties Showground, Nov 12 to 02 Jan
Wrap up warm and prepare to be spellbound – Winter Glow is coming back from Nov 12 to 02 Jan and it looks set to be pretty spectacular. As well as a dazzling outdoor illuminations trail, made from thousands of twinkling Christmas lights there's a huge covered ice rink, a giant 120ft observation wheel to ride on, personalised santa experiences and fabulous food quarter to explore.
The Nutcracker Light Trail & Christmas Market, Blenheim Palace, 19 Nov – 02 Jan
Expect over a million lights and lasers at this epic Light Trail and Show. There are glittering tunnels of light to explore, dancing lakeside reflections and trees drenched in jewel-like sparkles. Oooo at the fire garden, gaze up at the larger-than-life illuminations and don't forget to catch a glimpse of Father Christmas along the way – all with a gorgeously festive Nutcracker theme. Head to the artisan food market for some spiced winter warmers and browse the stalls of lovely Christmas gifts. Tickets range from £16 for children to £22 for adults.
See a panto! (oh yes you will)
Jack and the Beanstalk, Everyman Theatre, Cheltenham, 26 Nov – 6 Jan
Starring everyone's total fave Tweedy the Clown and Darius (him from TV) this promises to be a laugh-a-minute comedy adventure packed with songs, laughs and dazzling special effects. Muddy went to see it this week and it was absolutely BRILLIANT! Go see it.
Aladdin, Sundial Theatre, Cirencester, 15 – 22 December
Hop on board for a magical carpet ride at the Sundial's panto. Packed with all of the traditional pantomime ingredients, Aladdin features laugh-out-loud comedy, beautiful costumes and plenty of boos and hisses. Follow Aladdin, his brother Wishee Washee, and of course his mother Widow Twankey, on a spectacular adventure.
King Arthur – The Panto!, The Roses Theatre, Tewkesbury, 27 Nov – 31 Dec
This year's family pantomime, has been specially created for The Roses by Maurice Gran (the BAFTA-winning writer of Birds of a Feather and hit West End musical Dreamboats and Petticoats). Set in Medieval Tewkesbury, King Arthur: The Panto! tells the story of a humble baker boy who is destined for far greater things. Of course, the path to glory is never straightforward and he must overcome the evil Morgana Le Fey plus a host other unexpected foes and obstacles! Expect scones, stones, swords, laughter, dragons, wizards, brave knights, foolish jesters and lots of fun!
Beauty and the Beast, Swan Theatre, Worcester, 30 Nov – 02 Jan
Join the Worcester Repertory Company for a tale as old as time in this spellbinding family pantomime, Beauty and the Beast! A curse is cast on the Prince, causing him to be trapped in a magical castle as a Beast unless he can find love. Belle, an intelligent, confident and beautiful young woman, comes into the Beast's life offering a chance for the curse to be lifted – but can she see past his beastly exterior and find the true person inside? Packed full of panto treats galore, don't miss this all-singing, all-dancing spectacular!
The Brothers Grimm Present: Cinderella, Barn Theatre, Cirencester, 16 Nov – 02 Jan
Now for something slightly different! In this new adaptation of the Brothers' Grimm classic Wilhelm and Jakob are the ultimate odd couple. They are the Brothers Grimm. It's late and the brothers are arguing. A young girl appears, Cinderella and we are launched into a tale of kindness, cruelty, music and magic, slippers, pumpkins and wolves. Blending song, illusion and puppetry this production will be Cinderella as you've always known it but never seen before. This is Christmas theatre Barn style!
Make a wreath
Christmas Wild Wreath-Making Workshop, Burleigh Court Hotel, Stroud, 27 Nov – 11 Dec
Enter a Christmas Wonderland as the scent of foliage and oil of eucalyptus fills the air. Let your creativity take over as you learn how to make a wild Christmas wreath with Sharon Jackson. Get a preview of her beautiful work here. We guarantee your door will be the prettiest in the 'hood! Tickets cost £69 and Includes all materials and delicious Cream Tea from 1 – 4pm
Christmas Wreath-making, Daylesford Farm, Glos, 05 – 18 December
Pimp up your door with this festive workshop at Daylesford Expert florists will show you how to make seasonal wreaths and garlands using natural foliage and blooms foraged from the Daylesford farm. Weather and season permitting each course includes a guided tour of our organic Cutting Garden at Daylesford, where we gather blooms and other natural materials to incorporate into our floral designs. Please bring your outdoor shoes, boots and coats just in case. £135 per person.
Christmas Wreath Workshop, Garden at Miserden, Stroud, 02, 04, 05 December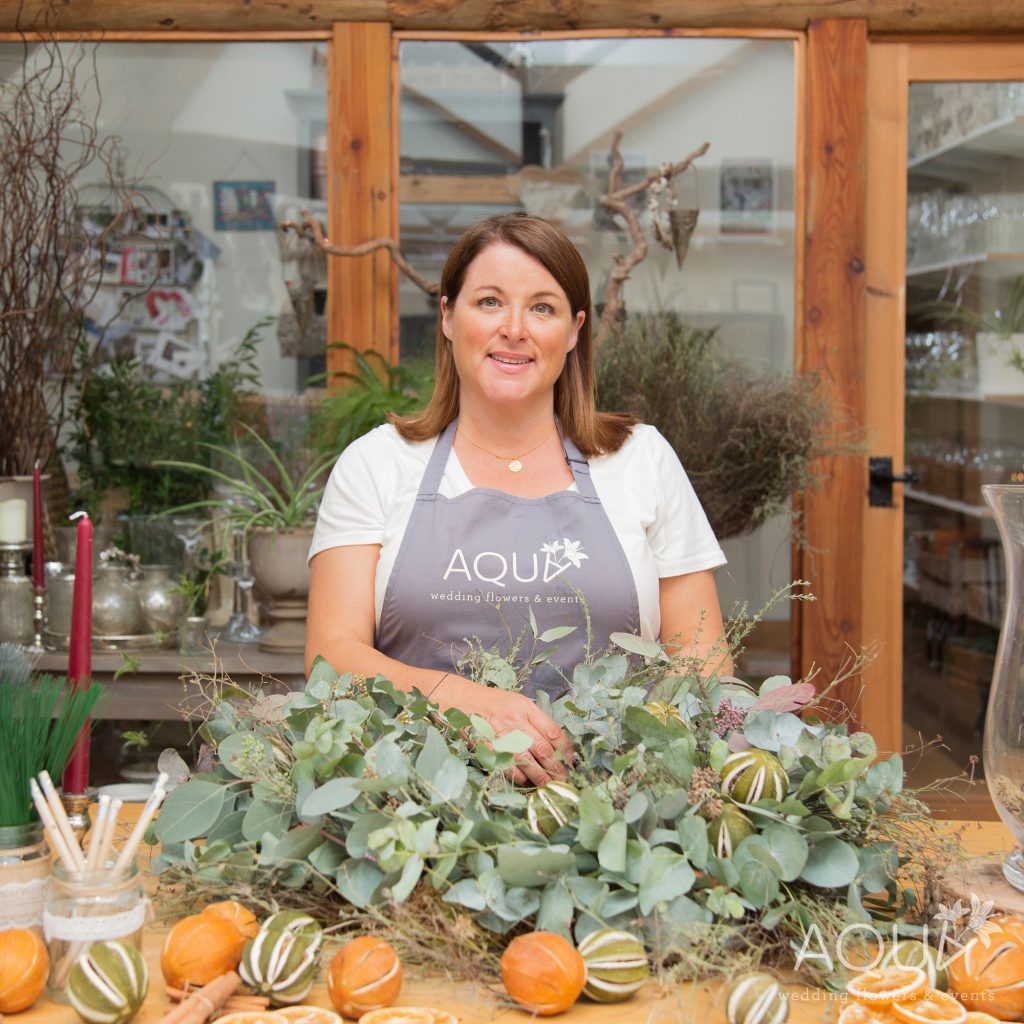 The Club Room in Miserden is the place for green fingers this Christmas, you can create your own wreath with Jo Copsey from Aqua Flowers. Well known for her beautiful floral wedding displays, Jo will teach you the techniques and guiding principles of building a stylish door wreath. Using a sustainable moss base and seasonal foliage from the Miserden woodland add your own touches with a choice of luxury ribbons, dried fruits, pine cones and cinnamon sticks as you create your own bespoke festive wreath to take home with you. Tickets cost £70.
See a Christmas Tree Festival
Christmas Tree Festival, St John's Parish Church, Cirencester
Every year there is a stunning Christmas Tree Festival at the spectacular Cirencester Parish Church, where local businesses, schools and community groups display bespoke decorated trees for you to enjoy. It's reduced in size this year, but we love the giant tree by indie cafe Luxe which is 100% pink themed like the cafe! Go see it then head to Luxe for a terrific hot chocolate and limited edition Bakewell Mince Pie!
Go skating
Christmas Ice Rink, Imperial Gardens, Cheltenham, 18 Nov – 02 Jan
Skating is coming to the heart of Regency Chelt! Whoop! The new pop up rink will be located in Imperial Gardens and will be covered so the weather can do what it likes you'll have a ball. A family ticket for 4 is £32 – get your skates on and book now.
IceQuest, Malvern Ice Rink, Malvern, throughout October
A good one for all ages. Don some skates and take to the rink in Malvern, novice skaters very welcome, the ice is kept softer and snowy, to make a slower speed for skating for all the family and medium sharp Roza skates are available to hire. Little wobbly ones can use handy seal-shaped walkers to make their way around.
Do a Christmas market
The yuletide market in Regency Cheltenham is back and bigger than ever for 2021. Expect twinkling stalls festooning the pedestrianised Promenade streets, and stalls packed with unique treats, gifts and handmade Christmas decorations. Once you've shopped your fill, feast on giant Bratwurst, or an exotic selection of ostrich and crocodile burgers (no lie!), macaroons from Italy, local fudge, and the very best cheeses. There's also a Christmas Craft Market on the High Street from 11 – 23 December.
More than 200 quirky stalls fill this famous Victorian Fayre in the heart of Worcester's picturesque old quarter. If you want to be time-warped back to a Dickensian yuletide, this is the one for you. Bag up delicious gifts, artisan arts and crafts, tuck into delicious street food and sip hot chocolate to carols, choirs and buskers on every street corner. There'll be Victorian themed characters popping up in Gin Lane, stilt walkers and more.
Historic Tewkesbury is the backdrop for this Christmas market, which this year will be taking over parts of the High Street, Church Street and Barton Street. Filled with fairground rides , a performance stage, various activities and 100 Christmas market stalls, it's one not to be missed. You'll get the chance to feed reindeer, meet the cast of The Roses Pantomime who'll be all dressed up, and there's even free parking in town. A Christmas miracle!
There will be markets almost every day in Cirencester in the month leading up to Christmas. The Monday and Friday Charter Markets and the Farmers' Market, held on the second and fourth Saturday of the month, will be continuing – and there will be a fabulously festive, craft or speciality market on all other days from November 20 to December 23. Expect live music and carols from local community groups, twinkly lights, a stunning central Christmas tree and lots more.
Are you ready to get merry? Head to Bristol this December for a fabulously festive atmosphere, some 50 stalls in the centre of town, luxe private igloos to rent, and more delicious food than you could possibly consume (that's not a dare!). You'll find us at Jäger Barn Bar, mulling over (geddit?) the choice between mulled cider, gluhwein, or a hot chocolate spiked with Baileys. Decisions!
Pretzels, bratwursts and schnitzels washed down with steins of beer and mugs of steaming gluhwein – is it even Christmas until you've been to a German market? You can't miss this one: it's the largest outside of Germany and Austria, smack in the middle of Birmingham, and is generally blasting traditional Bavarian music. You can stock up on quirky gifts, glass baubles and wooden decorations — who are we kidding, though? We're just there for the food, drink, and festive vibe.

Christmas Market, Blenheim Palace, Oxon, 19 Nov – 19 Dec
Blenheim Palace's whole Christmas experience this year is well-worth a visit — think an illuminated trail and The Nutcracker re-imagined within the Palace's rooms — but the market is always a dead cert. Expect boutique, artisan chalets, and plenty of refreshments.
The city of dreaming spires will be dreaming of a white Christmas at this bustling market, packed with carol-singing choirs, artisan gifts, and plenty of mulled wine. Pick up some unique local gifts, catch a glimpse of Father Christmas, and enjoy plenty of festive treats.
See Santa

Santa Dining Experience, Slimbridge Wetland Centre
Catch the big fella at Slimbridge from 11 – 19 Dec, you can enjoy a slap up full English in the Kingfisher Kitchen restaurant whilst he does his rounds with the elves. Santa will stop by each table to hand out gifts and chat, then head out to explore Slimbridge's winter wonderland with 100 acres of wetland. Tickets cost £22 for adults and £19.15 for children aged 4 to 16, and £14.95 for children aged 2 – 4.
Bespoke Santa Experience at Winter Glow, Malvern
This fabulous bespoke experience takes place at the wonderland that is Winter Glow, at the Three Counties Showground. Enjoy a memorable Santa meet-up here from 04 to 24 December. Hop aboard the thrilling Arctic Express over to Santa's festive cabin, where each family will have a private visit with Santa Claus, including a gift for each child, and a chance to try one of Missus Claus's cookies too. When you're done head to Winter Glow (on until Jan) to experience the phenomenal light trail and giant big wheel before heading out on the ice for some skating.
Santa in his workshop, Cirencester Park
Santa will be in his Christmas workshop at The Old Kennels in Cirencester Park for the first time from 20 Nov to 23 Dec. Enter his magical toy factory, see inside the Post Room and watch the elves in elf school building train sets, rocking horses and more! There will be a gift from Santa, and take a selfie with Santa's sleigh parked up. And don't miss the giant snowglobe where families have the opportunity to play in the snow!
Santa on Skis, Ski & Snowboard Centre, Gloucester
Go tubing for 30 thrilling minutes before meeting Santa and getting a gift (if you;ve been nice of course!) Tickets are £16 per head and include a hot chocolate too. On every day in December at 4pm and 6pm.
Dean Forest Railway Santa Special, Forest of Dean
This fabulous festive train ride through the forest will whisk you to see Santa and his elves. This super-popular event is expected to be bigger than ever this year with the fun happening from 27 Nov to 24 Dec. Make sure to book ahead. And why not add on Christmas Afternoon Tea or visit the cafe which will be offering seasonal treats as well as the train shop, to scoop up some stocking fillers.
Santa and his Reindeer, Ampney Crucis
Have an authentic Christmas experience with the Cotswold Reindeer Herd. From 20 Nov to 24 Dec visit Santa and his grotto near Cirencester, you'll get a special gift from Father Christmas, as well as a professional photo if you want, before visiting this gorgeous pack of reindeer and feeding them a snack.
Meet Santa, Clearwell Caves
Explore the magical underground forest at Clearwell Caves this December. Meet Santa and his elves before enjoying Clearwell Caves' Christmas stalls, where you can stock up on pressies and decs. Go to the underground café for a mince pie cakes and hot choc too. Tickets must be booked ahead online.
Fun with Santa, Cattle Country Park
Catch Santa here from 04 to 23 Dec. Get stuck into a host of festive fun including meeting Santa, visiting the elves' workshop, decorating gingerbread with Mrs Claus and more. All of the Christmas activities and park access are included in tickets. Tickets for children aged 4+ are £18.95.
Gingerbreads with Santa, John Lewis, Cheltenham
Meet Santa and his elves at John Lewis Cheltenham on Sat 11 and Sun 19 December. Kids will get a gingerbread biscuit and juice presented in a Christmas bag to take home, with the chance to meet the big man and put a good word in for the big day. Tickets cost £15 per child, 50% of ticket sales go to Sue Ryder Leckhampton Court Hospice.
Father Christmas at Daylesford, near Kingham
Do a stylish Santa at the ever cool Daylesford Organic Farm on Sat 04 Dec. He'll have his reindeer Dancer and Blitzen with him outside the Cotswolds farm shop, while Santa will be in his grotto waiting for his guests. Tickets to see Santa cost £5 per child, with proceeds being donated to local children's charities and schools, and meeting Santa's reindeer is free.
The Santa Train, Perrygrove Railway, Forest of Dean
Climb aboard the Twilight Train at this lovely dinky railway where passengers will be taken on a journey through the illuminated woods before stopping off to see Father Christmas at his winter wonderland station. Or book in for a VIP Father Christmas Experience where up to eight people will enjoy a private meet and greet with Santa as he hands out gifts and gets stuck into some festive crafts, all while you enjoy a steam train ride in your private carriage and tuck into some festive treats.
Santa at Dobbies, Dobbies Garden Centre
Catch the big man at Dobbies Garden Centres across Glos. There will be Santa's Breakfasts, where the whole family can play games, get a visit from Santa and get a special gift for every child. Little ones will also be able to meet Santa in his grotto at Dobbies too, walking through woodland, spotting the Christmas characters along the way. Keep an eye out for special guest Santa Paws too – making sure good pooches receive a special treat too.